Forced Entertainment Complete Works: Table Top Shakespeare At Home
Shakespeare Festival at the Globe Neuss presents as partner of Forced Entertainment
Complete Works: Table Top Shakespeare: At Home
A salt and pepper pot for the king and queen. A vase for the prince. A matchbox for the servant. A toilet roll tube for the Innkeeper. A water bottle for the messenger. A kitchen table for a stage.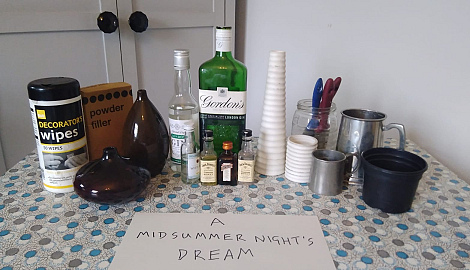 In this 'At Home' edition of Complete Works the dramatis personae of household objects return to a domestic setting in a unique staging directly from the performers' homes to yours.
Originally conceived in 2015, in Complete Works six performers create condensed versions of all of the Shakespeare plays, comically and intimately retelling them, using a collection of everyday objects as stand-ins for the characters on the one metre stage of a table top.
Forced Entertainment have long had an obsession with virtual or described performance, exploring in different ways over the years the possibilities of conjuring extraordinary scenes, images and stories using language alone. Complete Works: Table Top Shakespeare explores the dynamic force of narrative in relation to Shakespeare's comedies, tragedies, histories and late plays. What follows is simple and idiosyncratic, absurd and strangely compelling as, through a kind of lo-fi, home-made puppetry, the stories of the plays really do come to life in vivid miniature.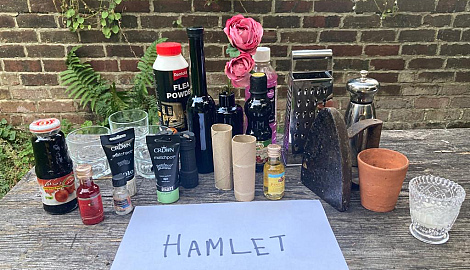 Complete Works has been performed in theatre spaces across the world as well as being webcast to thousands of international viewers, however, while a global pandemic has shut down stages everywhere, the piece finds an intimate new life by 'coming home'. Rather than a table set against the red drapes of a theatre, the objects find their starting positions on Terry's kitchen table or Jerry's desk as if they'd just been taken down from the surrounding shelves and cupboards of each performers' home.
Forced Entertainment's Complete Works is the group's first venture into Shakespearean territory and this 'at home' edition, presented over nine weeks, is a kind of quietly ambitious levelling and opening out of the plays. The project's gently comic re-casting and re-telling of each play is also both a celebration of the stories' power and a tribute to the durability of theatre itself.
All plays will be performed at 8pm UK Time (n.b. European Daylight Saving Ends 25 October 2am)- via www.facebook.com/GlobeNeuss or YouTube-channel of Forced Entertainment:
Week 1
17/09 Macbeth Richard Lowdon
18/09 Pericles Cathy Naden
19/09 The Merchant of Venice Claire Marshall
20/09 A Midsummer Night's Dream Jerry Killick
Week 2
24/09 Romeo and Juliet Terry O'Connor
25/09 King John Cathy Naden
26/09 Titus Andronicus Robin Arthur
27/09 Much Ado About Nothing Richard Lowdon
Week 3
01/10 Hamlet Terry O'Connor
02/10 Loves Labour's Lost Robin Arthur
03/10 The Winter's Tale Cathy Naden
04/10 All's Well That Ends Well Claire Marshall
Week 4
08/10 Richard II Terry O'Connor
09/10 Henry IV Part 1 Jerry Killick
10/10 Henry IV Part 2 Jerry Killick
11/10 Henry V Claire Marshall
Week 5
15/10 Henry VI Part1 Richard Lowdon
16/10 Henry VI Part 2 Richard Lowdon
17/10 Henry VI Part 3 Richard Lowdon
18/10 Richard III Claire Marshall
Week 6
22/10 Measure for Measure Cathy Naden
23/10 Corialanus Jerry Killick
24/10 The Merry Wives of Windsor Terry O'Connor
25/10 King Lear Robin Arthur
Week 7
29/10 Twelfth Night Jerry Killick
30/10 Cymbeline Terry O'Connor
31/10 Julius Caesar Robin Arthur
01/11 Antony and Cleopatra Cathy Naden
Week 8
05/11 Two Gentlemen of Verona Claire Marshall
06/11 Troilus and Cressida Jerry Killick
07/11 As You Like It Robin Arthur
08/11 Othello Cathy Naden
Week 9
12/11 Taming of the Shrew Claire Marshall
13/11 The Comedy of Errors Terry O'Connor
14/11 Timon of Athens Robin Arthur
15/11 The Tempest Richard Lowdon
Post-Show Discussions Each Sunday of the broadcast period at 8pm (UK Time) the performers from that week will host a Zoom Q&A which you will be able to register for at www.forcedentertainment.com
Conceived and devised by Forced Entertainment
Performers Robin Arthur, Jerry Killick, Richard Lowdon, Claire Marshall, Cathy Naden and Terry O'Connor
Director Tim Etchells
Text Robin Arthur, Tim Etchells, Jerry Killick, Richard Lowdon, Claire Marshall, Cathy Naden and Terry O'Connor
Digital Production Management Jim Harrison
COMPLETE WORKS: TABLE TOP SHAKESPEARE: AT HOME
is a Forced Entertainment production.
Financially supported by the following partners: Kanuti Gildi SAAL; Kunstfestspiele Hannover; Künstlerhaus Mousonturm; PACT Zollverein; Romaeuropa Festival; Shakespeare Festival Neuss and UCLA's Center for the Art of Performance. Also presented as part of Portland Institute for Contemporary Art's 2020 Time-Based Art Festival.
Further information: www.shakespeare-festival.de